Eibach 福克斯 ST Sport-Plus 悬挂套件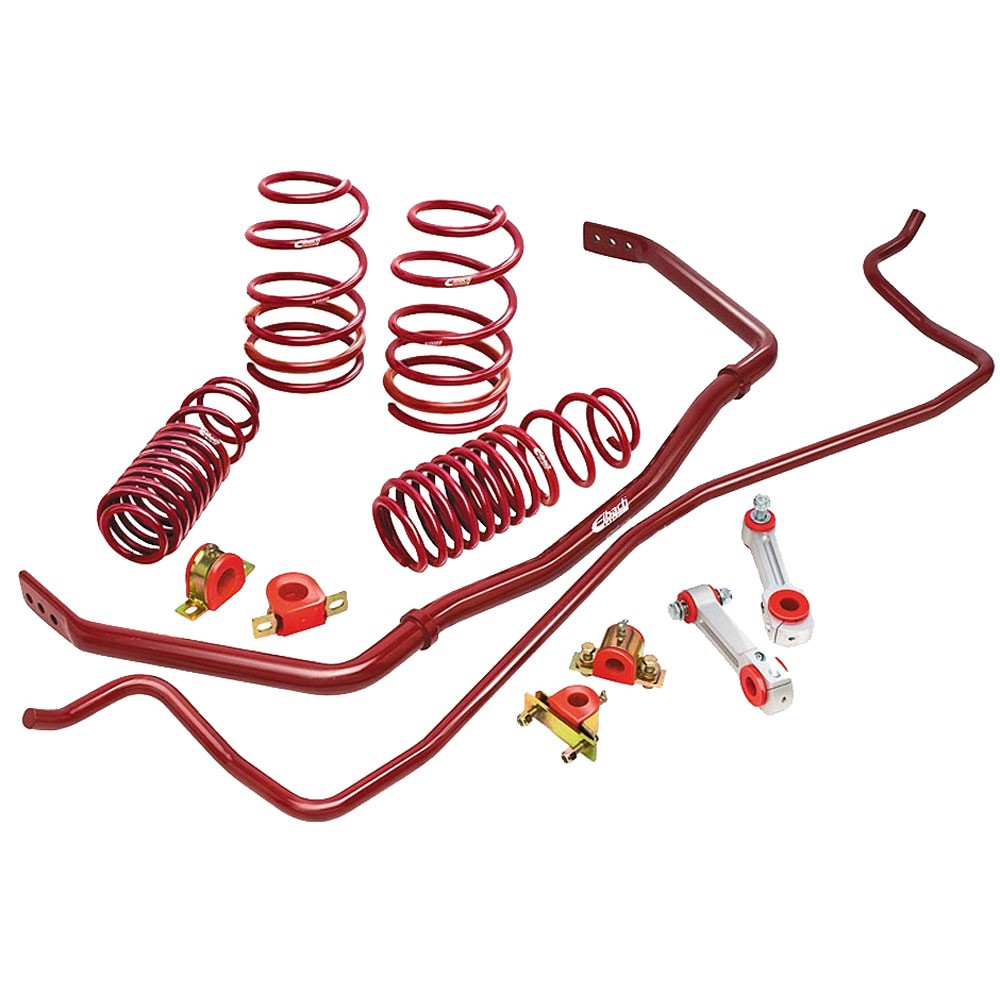 产品描述
2013 Focus ST Sport-Plus Suspension Kit from Eibach.
Have your 2013 Focus ST sitting and handling like a true race car with a Sport-Plus suspension kit from industry leader, Eibach! The super-aggressive Sport-Plus suspension kit includes Eibach's Sportline lowering springs along with the Anti-Roll front and rear sway bar kit.
悬挂套件包含:
Pair of Front Sportline Lowering Springs
Pair of Rear Sportline Lowering Springs
Front Anti-Roll Sway Bar with Urethane Bushings
Rear Anti-Roll Sway Bar with Urethane Bushings
Mounting Hardware
Instructions
The Sportline lowering springs will provide your Focus ST with race car like handling and show car styling. Eibach offers the Sportline lowering springs for the enthusiasts that crave a race car feel with attitude. With Sportlines, you can achieve the lowest possible drop from a lowering spring, all with exceptional ride quality you've come to expect from Eibach. The Sportline springs will drastically lower the Focus ST's center of gravity, reducing squat during acceleration, body-roll in corners and excessive nose-dive under heavy-braking.
Eibach's Anti-Roll sway bars are specifically engineered to work along with Eibach's springs to further reduce unwanted body-roll. Each sway bar is manufactured from cold-formed, high strength aircraft-grade steel for precision performance. The sway bars are then finished with a long lasting red powder coated finish. Each sway bar comes with new greaseable urethane bushings that provide improved responsiveness. The Eibach Anti-Roll kit allows critical fine tuning of your Focus ST's handling characteristics. Increased stiffness over stock sway bars reduces body-roll and increases handling and cornering grip in any performance driving situation.
Every Sport-Plus suspension kit is designed and tested by Eibach suspension engineers and performance driving professionals to deliver aggressive looks and high performance handling, without ever compromising safety or ride quality. Stop quicker, corner faster and gain better MPG. Lowering your Focus ST can actually improve aerodynamic efficiency by forcing more air over the car and less underneath which is where most of the drag is found on any vehicle. Quickly experience precise turn-in response, improved handling and cornering grip in any extreme driving situation with a Sport-Plus suspension kit!
The suspension in the average Focus ST is just that: Average. For performance drivers, average isn't going to cut it. These Focus STs need a much better tuned and more durable suspension to be able to handle all of the performance situations it may encounter. There's no suspension better equipped to do that than the parts from Eibach. Spool Tuning has Eibach suspension parts available for all 2013 and 2014 Ford Focus STs.
产品特色
Sportline Lowering Springs will Drop the Focus ST 1.4" in the Front and 1.4" in the Rear
Heavy-Duty 27mm Front and 25mm Rear Anti-Roll Sway Bars with Urethane Bushings to Reduce Body-Roll and Improve Handling
Extreme-Performance Springs and Beefy Sway Bars = Race-Car Like Handling for the Extreme Enthusiast
Precise Turn-in Response, Improved Handling and Enhanced Cornering Grip in any Performance Driving Situation
Stop Quicker, Corner Faster and get better MPG
Excellent Ride Quality
Includes All Necessary Hardware and Instructions for an Easy Installation