StopTech 嘉年华 ST 红色卡钳前刹车盘套件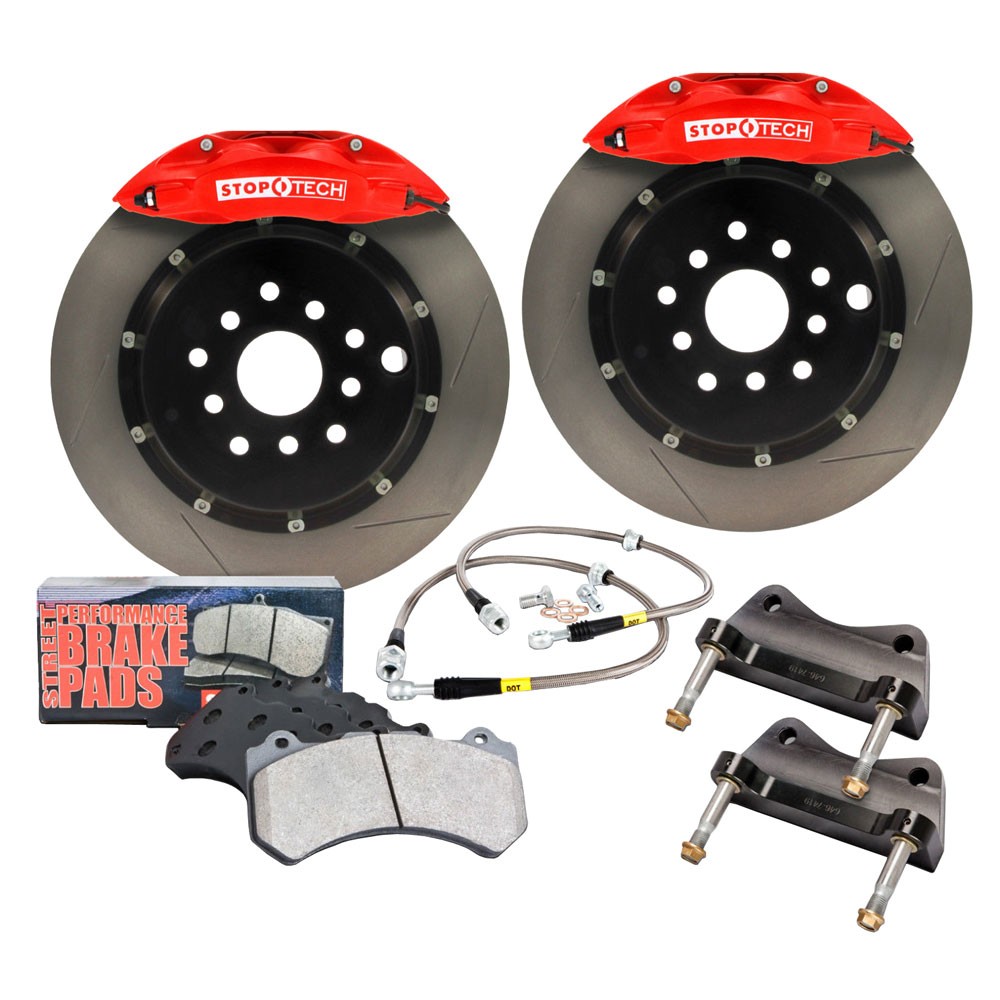 产品描述
2014 Fiesta ST Red Front Disc Brake Kit from StopTech.
Own one of the baddest 2014 Fiesta STs on the streets when you upgrade your Fiesta with a massive front disc brake kit from StopTech! This StopTech big brake kit not only looks amazing behind a set of custom wheels, but ultimately offers superior braking performance for the street or track.
刹车套件包括:
Fully Forged Red Painted Calipers with Stiffening Bridges
2-Piece Slotted AeroRotors
Braided Stainless Steel Brake Lines
Performance Brake Pads
All Necessary Hardware with Mounting Brackets
StopTech utilizes huge 4-piston calipers in this specific kit for phenomenal braking capabilities. They are a fully forged, 2-piece design. Using a bolt-in bridge, StopTech is able to stop distortion without sacrificing cooling through the top of the caliper. The finish on these calipers is the result of glossy high temperature paint. The calipers are red in color with white StopTech lettering, making for an awesome look behind your wheels.
StopTech 2-Piece Caliper Benefits:
Faster braking response
Better pedal feel under extreme braking conditions
Less vibration, noise, and pad taper
The key to StopTech's big brake kit success is their patented slotted AeroRotors and AeroHats that offer up to 80 percent greater airflow. StopTech has taken great strides in the area of rotor airflow. Through their 2-piece AeroRotor design, additional air is able to be moved with the aid of curved, airfoil-shaped vanes and an air channel that widens at the trailing edge of the vanes. Additionally, StopTech uses their aluminum AeroHats, which are lighter and have directional stand-offs in between the rotor and mounting hat that push air through the outside face of the rotor by over 15 percent.
StopTech AeroRotor and AeroHat Benefits:
Optimized to provide even performance and consistent feedback
Specifically engineered and patented AeroVanes for optimum cooling
Longer pad and rotor life
Street Performance brake pads are utilized in this StopTech kit for optimal braking performance. These pads are intended for high performance street driving as well as light track duty use. Para-aramid composites provide a linear response regardless of pad temperature. They are 100 percent positive molded for uniform friction material density. Also, low dust formulation is rotor friendly and leaves your custom wheels cleaner. The pads are scorched to raise initial cold effectiveness and ease bed-in. Lastly, the superior brake pads included in StopTech's brake kit are made of 100 percent Asbestos-free formulas.
StopTech's braided stainless steel brake hoses are sure to provide superior stopping power over your stock brake hoses. These stainless steel hoses are constructed using only high-end materials, including PTFE tubing that is very resistant to expansion under pressure and will not degrade from exposure to brake fluid. Additionally, the hoses have a coating with a clear abrasion resistant PCV cover for superior defense against friction. StopTech's brake hoses come with fittings that are engineered for perfect fitment and lasting strength.
StopTech provides premium quality hardware with their brake kits in the form of hard anodized 6061 -T6 billet aluminum mounting brackets with stainless steel studs. Application-specific hardware that is stronger than most competitors, with studs instead of the more commonly used bolts and hard anodized aluminum billet composition. The aluminum and steel is fully machined to ensure precision and strength. All necessary hardware is included for a proper installation.