Bilstein B14 PSS 福克斯 ST 绞牙避震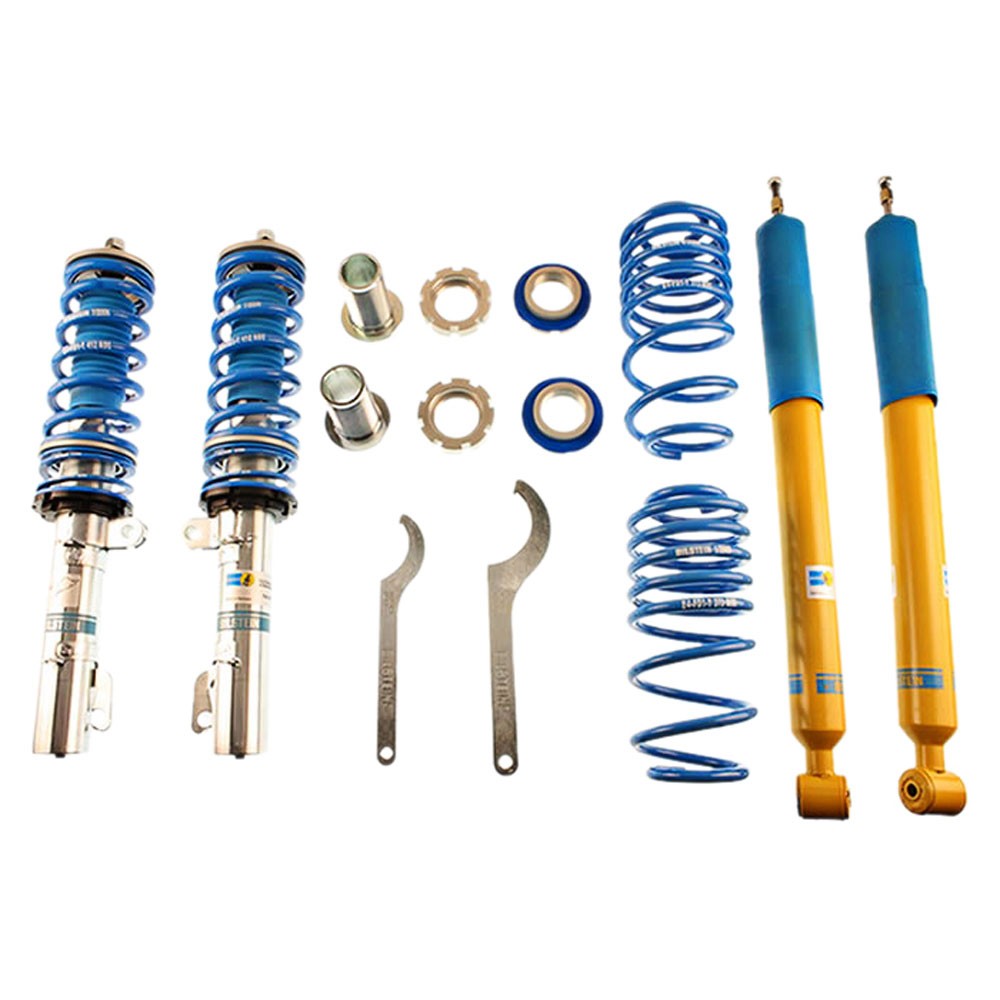 产品描述
2013 and 2014 Focus ST B14 PSS Coilover Suspension Kit from Bilstein.
Bolt on the ultimate suspension setup for your 2013 or 2014 Focus ST with the B14 PSS coilover suspension kit from Bilstein! With Bilstein's B14 threaded ride height adjustable kit, you're bringing technology straight from the race track onto the streets.
产品特色
Lowers approximately 30mm-50mm at front and rear
Threaded body adjustable range of 20mm
Road-tested and fine-tuned by Bilstein under motorsport conditions
Aluminum Spring plates and lock nuts
Surface coating using Triple-C-Technology for long-lasting corrosion resistance
Round threads for ease of adjustment
Bilstein mono-tube gas pressure technology made in Germany
Quality sport springs made from highly durable material
Comes with all necessary mounting hardware
The Bilstein B14 PSS suspension kit combines both coilover and standard mono-tube gas pressure shock or struts with performance level valving for application specific, progressive rate coil springs for a great combination of performance handling and streetability. This kit allows for adjustable vehicle ride height without the expense of a fully adjustable damping system. With dampers for lateral stability and progressive rate road-tested sport springs, this kit is finely tuned to provide precise, high performance response and accurate, predictable control in your 2013-2014 Focus ST.
With the B14 kit, you can expect a drop in ride height anywhere from 1.2" to 2" with 1" of adjustability. The special pitch of Bilstein's round thread on the B14 bodies is designed to provide smooth and accurate adjustment for the desired vehicle ride height by just a few turns of the aluminum spring seat. There are no sharp edges exposed to aggressive corrosion attack and it's very easy to clean.
Bilstein's B14 suspension kits are road tested and fine-tuned under extreme motorsports conditions by Bilstein ride engineers. Each shock is built with Bilstein's famous mono-tube technology. The quality sport springs are made from highly durable material and compliment the gas pressure shocks beautifully. Every component in the kit is coated using Triple-C-Technology for long lasting corrosion resistance.
So, if you're looking for the perfect combination of sport dynamics, superior appearance and high performance for your 2013 or 2014 Focus ST, you're on the right track with the Bilstein B14 PSS coilover suspension kit. This suspension kit provides a dramatic increase in your vehicle's performance handling characteristics and is designed for drivers wanting precision control and superb driver comfort, while seeking out more curves to conquer.