Ford Accesstuner Pro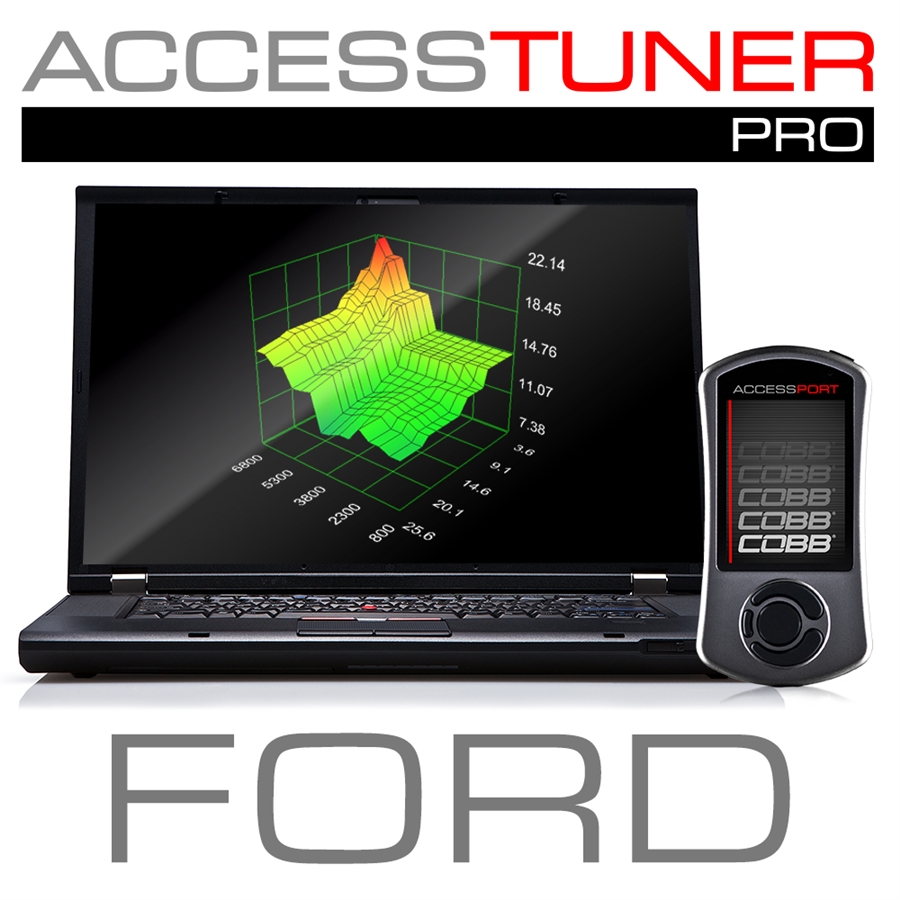 产品描述
Accesstuner Pro is engine tuning software created for professional tuning shops equipped with a chassis or engine dynamometer. Accesstuner Pro gives professional tuners the ability to tune an unlimited numbers of vehicles supported within the software. Maps can be locked to prevent tampering and unauthorized distribution. Accesstuner Pro offers powerful OEM ECU tuning capabilities to tune for nearly any engine modification, with outstanding technical support provided by the COBB Tuning Software Engineers and Calibration Specialists that develop and use this software every day.
System Requirements: Windows: XP 32 (not 64bit), Vista (32 or 64bit), Windows 7 (32 or 64bit), or Windows 8 (32 or 64bit).
Older Accessports (V2b) must be updated on a Windows 8.0 or older computer before connecting to 8.1
Accesstuner Pro is not available for Mac OS at this time.
Discounts available for shops that have purchased versions of Accesstuner Pro for other vehicle platforms. Please contact your Wholesale Sales Manager for additional details.
Accesstuner Pro is reserved for COBB Authorized dealers only. Please follow the link www.cobbdealer.com to apply as a COBB dealer and view the Pro Tuner application details.
New Features
IMPROVED LAUNCH CONTROL FUNCTIONALITY
(Manual Transmission only) Updated launch control strategy to improve traction off the line.
5 WAY ON THE FLY MAP SWITCHING
(Focus ST only) Create up to 5 different maps for On-The-Fly switching. Uses the steering wheel cruise control switches or the Accessport to change maps. Selected map indicated on dash. Maps can only be switched under 3kph for safety.
FLAT FOOT SHIFTING
(Focus ST only) Adjust Flat Foot Shift RPMs for no lift throttle shifting. Standard (Single Value) or Advanced (Per Gear)
Standard Tuning Features
TUNER AUTO UPDATER
Users can access tuning software updates through the "Help/Updates" menu.
MAP LOCKING
Maps can be locked to prevent customer tampering, unauthorized distribution or inappropriate use.
UNLIMITED VEHICLE FLASHING
Allows an unlimited number of Accessport equipped vehicles to be tuned.
LAUNCH CONTROL
We have unlocked tables in the factory ECU to allow a customizable engine speed and vehicle speed threshold similar to our Mazdaspeed3 implementation. Simply change these thresholds using the tuning software and flash the map to your vehicle to implement this feature!
INTEGRAL DATA LOGGING
Unlimited data logging of multiple channels of data from the ECU for detailed analysis of engine performance
INTEGRAL DASHBOARD
Shows tuner chosen gauges to be displayed on-screen throughout the tuning process
MAP DATABASE
Free access to the OTS map database from COBB Tuning that provide excellent starting points for specific modifications
HOT KEYS
Convenient one-touch short-cut keys allow easy data manipulation of common tuning operations
WIDEBAN O2 INTERFACE
Open wideband O2 interface integrates with a wide selection of available wideband O2 sensors
EMBEDDED STOCK DATA
Stock tuning data (ROMs) are self-contained inside the software itself, providing the OEM baseline tune for each vehicle supported by the software
TECHNICAL SUPPORT
Outstanding technical support from the software engineering team and our expert calibrators.
TUNING DOCUMENTATION
Step-by-step Accesstuner Help File provided by COBB Tuning Calibrators explains ECU logic and procedures for properly tuning your specific application.