Green 空滤清洁套装 — 清色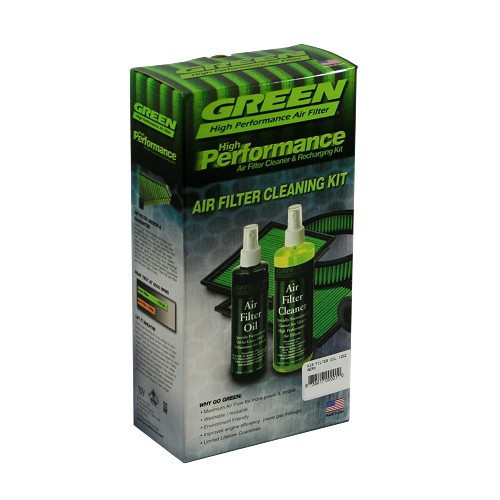 产品细节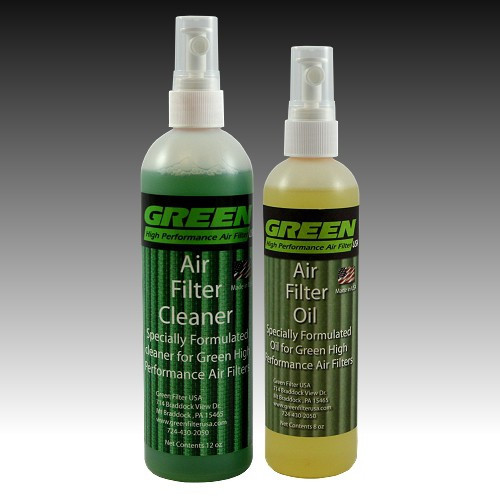 产品描述
This Cleaning Kit is for CLEAR/GREY color Green Filters - When ordering please match the color of your Green High Performance Air Filter with the cleaning kit.
Keep your Green High Performance Air Filter in perfect condition with our specially formulated Recharge Oil (8 oz.) and Cleaner Spray (12 oz.). Our Recharge Oil is designed to not damage any vehicle sensors and ensure that your Green Filter can trap the smallest dirt particles before they reach your engine.
使用说明
In order to insure many years of use out of your Green High Performance Air Filter, it needs to be cleaned every 4,000 to 6,000 miles or every 6 months. To clean your Green High Performance Air Filter, follow the steps below:
PRE-CLEANING
Tap the filter or blow with air to remove excess dirt.

APPLY CLEANER
Spray the filter with Green Filter Cleaner and allow the solution to soak in for about 15 minutes. (*Never use strong detergents, high pressure water, or gasoline)

RINSE
Rinse the filter with warm water, clean side to dirty side to flush out the dirt.

DRYING
Allow the filter to dry naturally. Try to avoid heat because it might shrink the cotton.

APPLY OIL
Re-oil the filter using Green Filter Oil by using 1 spray per 2 square inches of filter. Take care to not over-oil your filter.
*Never use motor oil, transmission fluid, WD-40®, or any other brand of filter oil as these may damage your Green Filter. Use only genuine Green Filter Oil.